PLAYERS READY FOR THE LADIES SCOTTISH OPEN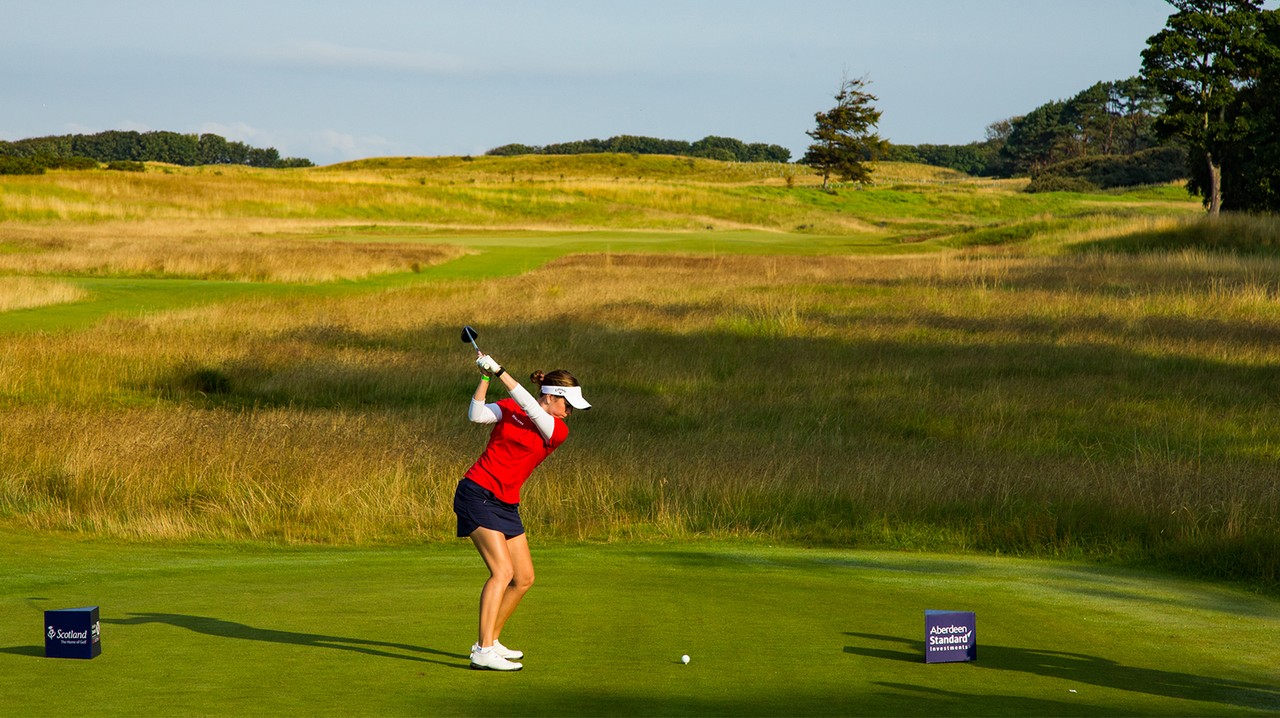 GEORGIA HALL READY TO #DRIVEON TO LSO SUCCESS 
Everyone likes a tournament where she can just drive to the venue. It took eight hours for 2018 AIG Women's Open champion Georgia Hall to drive from her home in Bournemouth, England, up to The Renaissance Club in Scotland. But it was definitely better than having to get on an airplane.
"I'm so happy to be in Scotland and to only just drive up for my first event," said Hall with a laugh. "It's great for me."
This week marks Hall's first LPGA Tour competition since February's ISPS Handa Women's Australian Open, as she opted to remain in England rather than fly to the United States for the two resumption events in Ohio. She kept her game honed through England's strict quarantine by working out and practicing in her backyard and worked her way back into competitive form thanks for the Rose Ladies Series, where she won twice. Now she's ready to resume her LPGA Tour season at one of her favorite events.
"Everyone always targets majors, but this is one of my favorite events of the year because it's so close to home and I love playing links golf. So I don't really treat it as like a warmup for next week. Both are just as important," said Hall, who tied for 24th here in 2019. "This is my first kind of main event back, so I do want to get off to a good start but I'm not putting any pressure on myself. I'll just go out there and stay calm and let kind of all my practice do the work."
CHARLEY HULL COMES TO #ASILSO ON A ROLL 
Charley Hull arrived at The Renaissance Club as one of the hottest golfers in the women's game. The English player competed in all eight Rose Ladies Series events, capturing Order of Merit honors after taking two victories and five other top-10 finishes.
"It was a really, really good thing to play in," said Hull, who also competed on the Clutch Pro Tour, a mini tour for both men and women. "It was on some really good golf courses as well because you never really get to play all the heathland golf courses in England. So it was nice to play them, and just a good warmup for the season."
It's now back to LPGA Tour competition for Hull, who last teed it up in January at the Gainbridge LPGA at Boca Rio, where she tied for 11th. The Renaissance Club is a links-style course, running along the Firth of Forth and just next to Muirfield. Links courses are not necessarily Hull's favorite layout, but the return to competition means that Hull wouldn't rather be anywhere else. She's even the rare golfer who is actually praying for a little rain to hit the course, as opposed to Wednesday's perfectly sunny day.
"Last few weeks I've been hitting it really well and I'm just looking forward to (playing)," said Hull. "Obviously links golf isn't my favorite – well, I like playing links golf but I don't think it likes me, but I like American golf. I'm really looking forward to it. I kind of prefer playing links golf when the weather is a bit rainy and windy. It's a lot of fun but there's two good golf courses and the course is in great condition."
MINJEE LEE EAGER TO ENJOY THE CHALLENGE OF LINKS GOLF AT THE RENAISSANCE CLUB  
Minjee Lee has played some spectacular golf since the Tour's restart in Toledo in July, earning a third-place finish at the LPGA Drive On Championship and placing fourth at the Marathon LPGA Classic presented by Dana. After flying across the sea for the Aberdeen Standard Investments Ladies Scottish Open, Lee said she's been waiting for this week's event on her calendar for some time.
"I really enjoy playing links golf. So Scottish Open was never off my schedule. I come here every single year that it's been an LPGA event and I really enjoy it," said Lee, who has finished in the top 10 of the Ladies Scottish Open since 2017.
The Australian is confident in her play, especially after recording two eagles at last week's Marathon LPGA Classic. During the Tour's hiatus, Lee said she focused on her swing, working hard at her ball-striking and driving abilities. She believes her hard work and improvement will continue to show as she adjusts to links golf in Scotland.
"I feel like I've been hitting it pretty solid and like I was talking about the first week, I was trying to work a little bit on my putting," said Lee. "Over here it's a little bit different because it's slightly slower greens and probably you've got to play a little bit more of the wind. Just a little bit different conditions and trying to adjust to that."