LPGA, LET RETURN FOR FIFTH EDITION OF TGWSO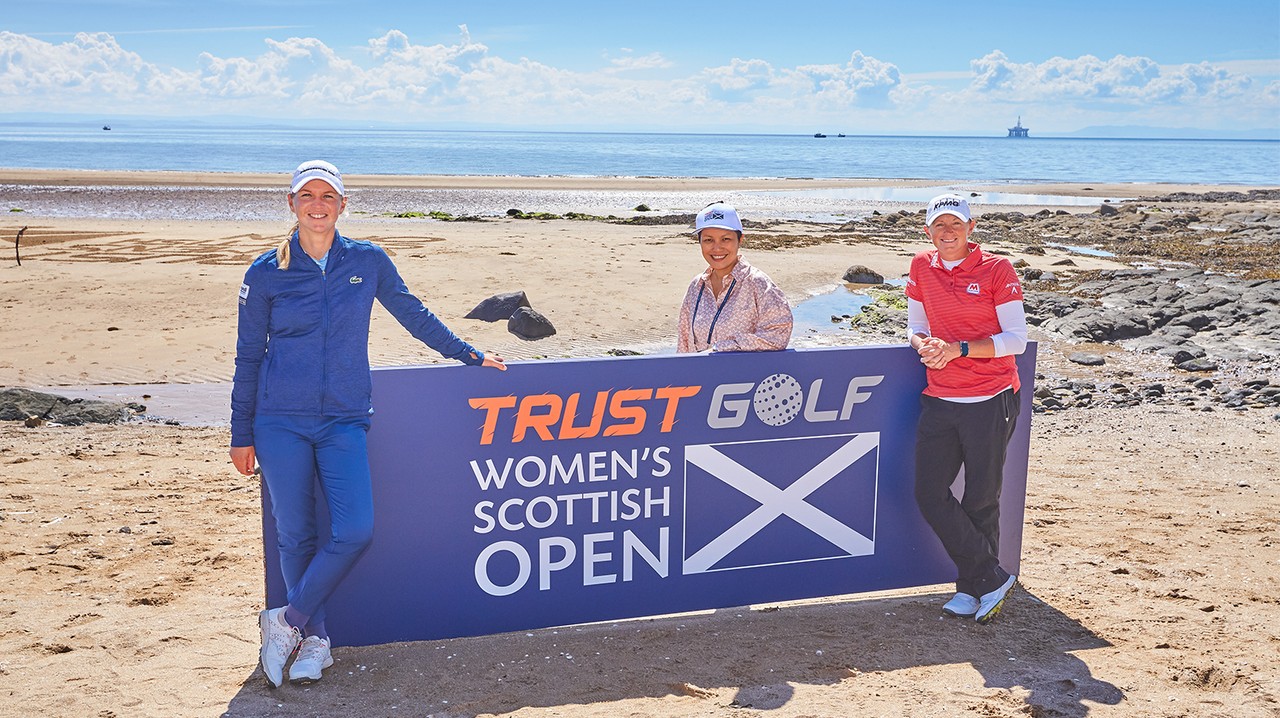 The LPGA Tour and the Ladies European Tour (LET) have arrived at the Home of Golf this week for the fifth edition of the Trust Golf Women's Scottish Open, the third of four events in the LPGA Tour's 2021 European swing. After an exciting Olympic Women's Golf event, Dumbarnie Links is set to host 31 players from last week's Games in Tokyo, highlighted by bronze medalist Lydia Ko as well as Aditi Ashok, who took the world by storm with her fourth-place finish at Kawsumigaseki Country Club.
In 2020, the Women's Scottish Open was the third event after the Tour's 2020 restart due to the COVID-19 pandemic. After starting the final round one-shot back of the lead, Stacy Lewis made her way into a playoff with Emily Kristine Pedersen, Cheyenne Knightand Azahara Munoz. A 23-foot birdie on the first playoff hole secured her 13th LPGA Tour win, her first victory since the 2017 Cambia Portland Classic and first since giving birth to daughter Chesnee in October 2018. Lewis is back in Scotland for 2021, looking to successfully defend a championship for the first time in her career.
Nine LPGA Tour winners from 2021 are also in the field this week, including three of the four major champions, Patty Tavatanakit(ANA Inspiration), Yuka Saso (U.S. Women's Open) and Minjee Lee (Amundi Evian Championship). Nine Ladies European Tour winners will tee it up as well, with the most recent winner Alison Lee (Aramco Team Series – Sotogrande, Individual) hoping to carry that momentum onto the links after earning her first victory as a professional. Five Scottish players look to carry the torch in their national open, including 2012 TGWSO champion Carly Booth and three-time Rose Ladies Series winner Gemma Dryburgh.
WHAT YOU NEED TO KNOW ABOUT THE TRUST GOLF WOMEN'S SCOTTISH OPEN
This is the fifth playing of the Trust Golf Women's Scottish Open co-sanctioned by the LPGA and LET; the event was first played on the LET in 1986
Dumbarnie Links will host the TGWSO for the first time; For the first four years of the championship, the tournament was contested at the Renaissance Club in North Berwick, Scotland
Dumbarnie Links is one of Scotland's newest courses, opening in May 2020
There are six players from Scotland in the field this week; one of these players will earn The Jock MacVicar Leading Scot Trophy, a new addition to this year's event in honor of legendary golf journalist Jock MacVicar, who sadly passed away earlier this year. The Trophy's winner will also receive a week-long training block at Trust Golf's training facility in Bangkok, Thailand
Nine of the 2021 LPGA Tour winners, including three of the season's four major champions, and nine of the 2021 LET champions also make up the field in Scotland
Mi Jung Hur posted the 72-hole tournament scoring record, -20 (264), in her 2019 victory on the links
HALF-SCOT HANNAH GREEN EXCITED FOR RETURN TO MOTHER'S HOMELAND
Hannah Green jetted from the Olympic Games in Tokyo straight to Scotland for the Trust Golf Women's Scottish Open, where she is joined by 30 Tokyo 2020 Olympians in this week's field. When asked if the major champion felt any jet lag heading into her first LPGA Tour event since the KPMG Women's PGA Championship, Green chuckled. Bouncing around the world is in the nature of the LPGA Tour, but Green said she has enjoyed some much-deserved rest since landing Sunday night from one of the most memorable experiences of her career. After not touching the clubs for five weeks, Green finished in a tie for fifth at Kawsumigaseki Country Club. Despite missing out on a medal, the 24-year-old said she has felt the impact over the past few days from representing Australia on the Olympic stage.
"I had a lot of messages from people who don't particularly watch golf. I spoke with Webby (Karrie Webb) after the tournament. She was in hotel quarantine, so she pretty much didn't have anything else to do besides watch golf, but she said that we got really good coverage being the second week, as there weren't too many sports on," said Green. "I feel like I've had a lot of messages from people that don't even play golf or usually watch golf and have some new fans now."
Green said she's ready to get back in the swing of consecutive weeks on Tour, and like she has been playing catch-up with friends on Tour since returning to a place that feels like a second home. Green's mother was born and raised in Fraserburgh, almost three hours north of Dumbarnie Links. Though fans are limited this week, Green is hoping for her family to make a possible appearance at the AIG Women's Open next week at Carnoustie.
"I'm not sure if they're allowed this week but I think [AIG Women's] Open they're going to definitely try and get out here. Normally my mom would come and we'd go visit up there but obviously with the strict bubble, it's a little bit different. Fraserburgh is a few hours away, so I won't be going there unfortunately to see them, but hopefully they can come and make it to the tournament."
This is Green's fourth appearance in the Women's Scottish Open, with her best result a tie for 16th in 2020. She said she enjoys this style of golf, as it's a different experience from any courses in Australia.
"It's different, links golf. You can hit great shots and they end up in a bad position, and the complete opposite can happen too. You can hit horrible shots and they end up great, so it's definitely a week where you have to be extra patient. I haven't actually looked at the forecast, but obviously if it's windy and rainy it's going to make it quite difficult," said Green. "From what I've seen, the golf course looks really nice and I'm not sure what the wind direction will be, but I think the LPGA and LET will do a good job setting up the course.
"You've got to use your imagination, got to think a little more outside the box. I like when I have to think a little bit harder and worry about where the ball is going to go."
PATTY TAVATANAKIT FEELING SOLID HEADING INTO SECOND LINKS EXPERIENCE
Patty Tavatanakit, one of 14 major champions in this week's Trust Golf Women's Scottish Open, has only played a links course one other time in competition, at the 2020 AIG Women's Open. Though she missed the cut at Royal Troon, she came away with an appreciation for the challenges that links golf offered.
"You don't have to be perfect. You can just scramble your way around the course and try to score out here, you don't have to hit it perfect," said Tavatanakit, who is making her first appearance in the TGWSO. "It's something that I haven't experienced a lot growing up in Thailand, in the U.S., it's just not something that I've been playing a lot to be familiar with it. I think it's different, and I feel like even though I didn't play well last year at Troon, I still had fun."
Since her maiden major championship title, Tavatanakit has displayed a confidence that's shown in recent results. The young Thai has recorded four top-five performances since the ANA Inspiration, including a tie for fifth at the KPMG Women's PGA Championship. Tavatanakit then took an "unintentional" off-season soon after, withdrawing from the Marathon LPGA Classic when she felt her body wasn't ready. Due to visa difficulties, Tavatanakit was then forced to pull out of the Dow Great Lakes Bay Invitational with playing partner Leona Maguire. And then the Amundi Evian Championship, the only potential preparation for the 2020 Tokyo Olympics. Her Olympic appearance was her first event back and she finished T23 at -5 overall.
"It was actually pretty nice. I'm not complaining at all," said Tavatanakit of the hiatus from the Tour. "I'm really refreshed and not burnt out. We're in the middle of the season and that's just a really good feeling to have and looking forward for more tournaments to play at the end of the stretch."
As she looks ahead to a brand-new week at Dumbarnie Links, Tavatanakit said she feels her game coming together at the exact right time again.
"I'm really satisfied where everything is right now. I think it's kind of in place. I've been looking forward to coming here and playing on a links course, so I've been preparing for that ever since the beginning of the season," said Tavatanakit, who is currently third in the Race to the CME Globe standings. "My confidence is actually higher than last year. I feel like my swing is where it needs to be, a lot better than last year. I feel like I have more control in what the ball flights will do compared to last year. I'm just at a different stage compared to last year. I feel like everything just feels better, like I'm a little more rested. I'm looking forward to play, and ready for all the challenges with the weather. I'm just out here and I'm ready to play."
IF YOU LOVED GOLF IN THE OLYMPIC GAMES, YOU ARE IN FOR A TREAT
If you loved the thrilling golf competition at the Tokyo Olympic Games – and given all the storylines that emerged from Kasumigaseki Country Club, how could you not? – then I've got great news for you. At the LPGA Tour we do this almost every week, 30-plus times a year, in countries all over the globe with players from everywhere – India to Indiana; Ljubljana, Slovenia to Slidell, Louisiana; South Korea to South Dakota. Pick your flag and we probably have a player for you. You won't find a more diverse professional sports league anywhere in the world.
Last week outside Tokyo, we saw Nelly Korda, the No. 1 player in the Rolex Rankings, from Bradenton, Florida, battling down the stretch against Lydia Ko from Auckland, New Zealand, Mone Inami from Toshima, Japan and Aditi Ashok from Bengaluru, India. For many – including millions of cricket fans in India who spent much of the week searching the internet for the difference between a birdie and a bogey and why being under par was better than over par – the Olympics was an inaugural exposure to international women's golf. Aditi, for example, was the top-trending topic on Twitter in India last Saturday (even with the rest of the Games still in full swing) and the fifth-highest trending search worldwide. The President of India even tweeted his congratulations to the 23-year-old, writing, "Well played Aditi Ashok! One more daughter of India makes her mark! You have taken Indian golfing to new heights by today's historic performance. You have played with immense calm and poise. Congratulations for the impressive display of grit and skills."
What few of President Ram Nath Kovind's 14.4 million followers know is that Ashok came to Tokyo on something of a hot streak. Just a few weeks before, she finished in a tie for third in the Dow Great Lakes Bay Invitational with playing partner Pajaree Anannarukarnof Thailand.
Even fewer know that Aditi, Lydia and Nelly are all friends who see each other no less than 20 weeks a year. That is life on the LPGA Tour, week in and week out.
This week is no exception. Many of last week's Olympians, including Ko, have traveled from Tokyo to Leven, Fife, Scotland along the north shore of the Firth of Forth, about nine miles from St Andrews, for the Trust Golf Women's Scottish Open being held at Dumbarnie Links. Patty Tavatanakit, who won the season's first major championship and wore the colors of her native Thailand in last week's Games will be there, along with her Thai Olympic teammate Ariya Jutanugarn. The two players who tied for fifth in Tokyo, Hannah Green of Australia and Emily Kristen Pedersen of Denmark, are also in the field in Scotland, along with both players who represented Germany: Sophia Popov and Caroline Masson.