BOUTIER SECURES BACK-TO-BACK TITLES WITH VICTORY AT FGWSO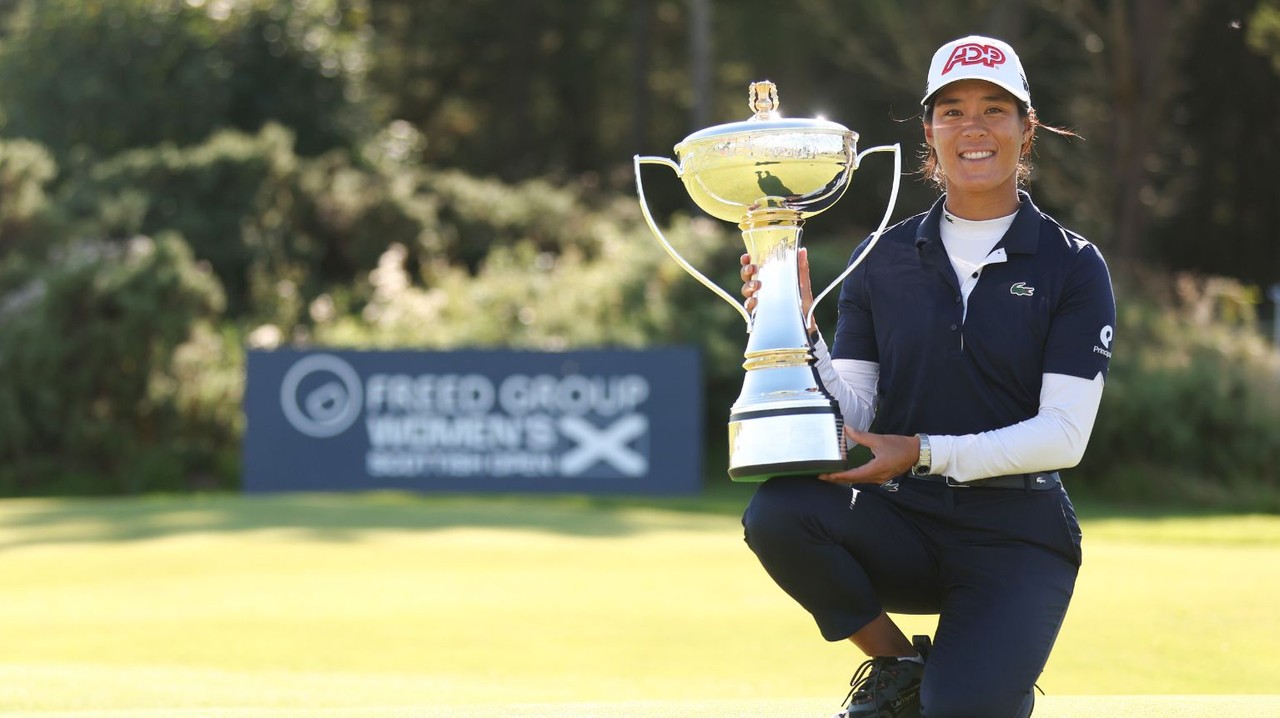 Written by the Ladies European Tour.
Boutier wins by two shots at Dundonald Links
The Frenchwoman climbs to the top of the 2023 Race to Costa del Sol
Celine Boutier won the 2023 FREED GROUP Women's Scottish Open Presented by Trust Golf after shooting a final round of 70 (-2).
The Frenchwoman began the day with a three-shot lead and had a steady front nine with birdies on holes six and nine at Dundonald Links.
Boutier rolled in a birdie on 13 before making bogeys on 14 and 16, but she bounced back with a birdie on 17 which proved to be enough to seal a two-stroke victory in Scotland.
"It's completely crazy," said Boutier. "I would have never imagined that I would be able to win not one, but two tournaments in a row. I'm just incredibly in shock. I don't think I know what to say or what to think! I think it's just completely out of control. I'm not sure what to think.
"There were definitely some tough shots out there, and I didn't manage to play as well as the past three days, but I feel like that's going to happen. It's a long tournament, and I just tried to stay patient and stick to my game and stick to my game plan.
"I feel like both Hyo-Joo [Kim] and Maja [Stark] were playing well and, on this course, just like last year, anything can happen with a solid round. I tried to really stay patient and tried to hit some close, but it's not always easy especially, on this course.
"It's definitely an amazing feeling. I feel like winning in Scotland is definitely on my bucket list. The Home of Golf, to win a tournament there would have been amazing, but it's so unexpected just because I won last week, so the odds that I would win this week are pretty low, and so I'm just incredibly in shock and very grateful."
Korea's Hyo-Joo Kim fired a final round of 65 (-7) to end the week at Dundonald in second place on 13-under-par.
The five-time LPGA Tour winner was bogey-free on the final day making birdies on holes three, five, eight, 11, 13, 14 and 18.
One shot further back on 12-under-par was 2023 KPMG Women's PGA Championship winner Ruoning Yin.
The Chinese player rolled in seven birdies and one bogey on her way to a final round of 66 (-6) to finish in third place.
"Last week my driver and my approach shots were not quite me, so I think I'm just getting my game back this week," Yin said. "Especially today, my drive and my approach shot and my ball-striking is pretty solid.
"Today I didn't think about the score. I just tried to keep it simple, like one shot at a time and I just kept hitting my game and obviously Hyo-Joo [Kim] had a great round today. I just really enjoyed playing with her. We both went low today, so that's pretty exciting."
Korea's A Lim Kim and Sweden's Maja Stark ended the tournament in a share of fourth place on 11-under-par.
Four players finished the week in a tie for ninth place with Americans Ally Ewing and Andrea Lee, Australia's Sarah Kemp and Sweden's Madelene Sagström all on nine-under-par.
In the 2023 Race to Costa del Sol, Boutier has jumped to the top of the standings and now has 1,639.63 points.
Spain's Ana Peláez Trivino moves to second place with 1,433.20 points with India's Aditi Ashok now third with 1,285.56 points.
Sweden's Linn Grant is in fourth place with Czechia's in fifth, Sweden's Johanna Gustavsson in sixth and India's Diksha Dagar in seventh.
Rounding on the top 10 are England's Cara Gainer, Spain's Carmen Alonso and England's Lily May Humphreys.
It was quite the scorecard for Stark, who secured her first ever hole-in-one as a professional on the sixth hole at Dundonald Links.
The Swede produced a final round of 71 (-1) to finish on 11-under and moved up to 16th in the 2023 Race to Costa del Sol.
Three players finished in tie for sixth place with Sweden's Caroline Hedwall, Denmark's Nicole Broch Estrup and Thailand's Patty Tavatanakit all on 10-under-par.
Hedwall, who carded a final round of 69 (-3), said: "I was just really pleased with the way I played today. Three-under felt like a good score and I was just playing really solidly. It was really nice to get that bounce back on 18 and get a birdie and almost an eagle.
"My mindset this week was I was going to try to trust myself a little bit more because I know that I'm hitting it really well but then when I get on the course, I start doubting it a little bit. I did that really well today and stepped back a couple of times, but just to clear my mind and get good thoughts, so I'm really proud of myself.
"It's nice to know that my game is solid and I'm in form but then next week is a new week but obviously it gives me a lot of confidence for next week."
While Broch Estrup produced a fourth round of 70 (-2) to secure her T6 finish and also secured her place in next week's AIG Women's Open.
The Dane explained: "I've had a couple of weeks this year where I've started out well in the first round and then dropped down the leaderboard. To do this, and into next week's field as well; I know I'm good enough to play on the LPGA, but prove it to myself and have a good mental week, that's a really big win.
"It feels really good that I don't have to play tomorrow. Obviously, the AIG will be my only major this year and last year I was playing well but missed the cut by one. I'm looking forward to playing next week and if I can continue doing the mental stuff that I'm doing, then I think I'm okay."